43 cooker hoods have been added to NeutraTEST's data base for extractor fan test results!
From January 2016 NeutraTEST's British data base for cooker hoods is up and running for you to search in order to find your favorite extractor fan.


Siemens - Cooker Hoods - Test Results
Island Chimney Hoods
During spring we have added 43 cooker hood models from Siemens, starting with the two island chimney hoods LF98GB542B and LF91BA582, which achieve decent NeutraTEST Scores of 6.5 and 6.7 respectively on a scale to 10. Very rarely scores will go over 7, as noise and extraction performance are inversely related.


Horizontal Wall Mounted Chimney Hoods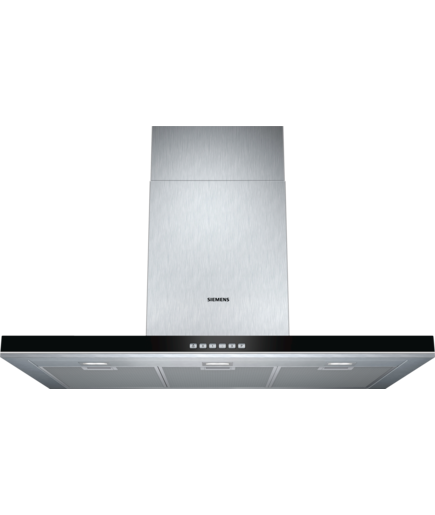 Out of the 22 wall mounted chimney hoods, which are also sometimes called horizontal extractor fans, 8 are 60 cm wide. LC68GB542B, LC67GB532B, LC68BA572, LC67BF532, LC67BE532, and LC67WA532 are good performers with NeutraTEST Scores around 6.2, in comparison to LC64BA521 and LC64GB522B achieving less convincing grades of 4 and 4.5.
Same scenario for the 70 cm Siemens wall mounted chimney extractor fans where LC77BE532B and LC77WA532B do well with scores of 6.2 and LC74WA521 baskets a score of only 3.5.
The 90 cm wall mounted chimney hoods constitute the bulk part and can be divided into three performance levels: LC94WA521, LC94BA521, LC94GB522B obtain grades between 3.5 and 4.4, what are largely outperformed by LC98GA572, LC98GB542B, LC97GB532, LC91BA582 achieving scores around 6.3. The high-fliers among the Siemens wall-mounted chimney models are LC97BF532, LC97BE532, LC97WA532, and LC98BA572, which bag neat scores above 6.6.


Vertically Wall Mounted Chimney Cooker Hoods
The relatively new angled or inclined chimney hood type, which is also sometimes called the vertically wall-mounted hood (extractor fan), constitutes a particular focus area for the manufacturers. The obvious advantage when cooking is that they are "head-free" (as they put it in German). In spite of the fact that the shape is less hood-like, Siemens is succeeding in getting good performance scores where LC98KC652B gets a solid 6.1, LC98KA570 reaches 6.5, and LC91KB672 tops with an impressive 6.7.

Integrated Canopy Hoods
The integrated fold-out extractor fans concealed in the upper cabinet units is an area with room for improvement. The concept is actually quite convincing, but there are few models on the market and the two from Siemens, LE64130 and LE62031GB achieve mediocre scores of 3.4.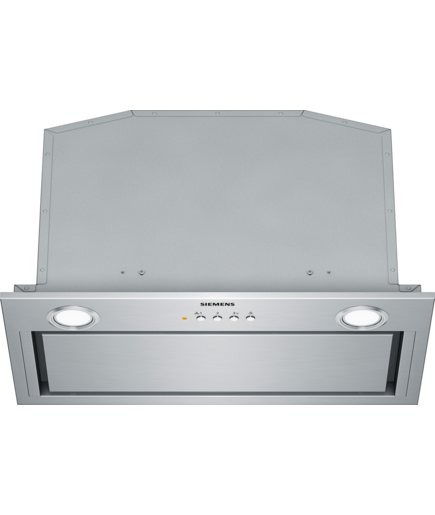 The canopy hoods which are also integrated in the cabinet or the cupboard above the cooktop often represent good value for money. In the case of Siemens the performance and the scores could be higher and on other markets there are - more expensive - models to be found that have excellent performances. LB23364 in 55 cm achieves a feeble 3.3, whereas LB75564, LB55564, LB57574, and LB78574 receive more respectable NeutraTEST Scores between 5.1 and 5.9. Only the LB79585GB makes it above 6 with a 6.3 grade combining powerful extraction with a low noise level.

Integrated Worktop Hoods
The table top extractor LD97AA670 provides telescopic table ventilation. It is an elegant and unobtrusive solution building on the downdraft principle achieving a score of 5.6. However, before purchasing we suggest to ask around for testimonials with positive long-term experience from this kind of cooker hoods. As is the case for the ceiling mounted extractor fans the current EU and IEC (British Standard) test-procedures do not take into account the final position of the work top down draft hood when mounted in your kitchen. Thus the relatively convincing scores for LF959RB51, LF959RA51, and LF159RF50B between 6.2 and 6.4 should be regarded with some conservatism.


Integrated Pull-Out Telescopic Hoods
Finally, the telescopic cooker hoods, that can be high performing and good value options. The 60 cm LI23031 achieves a non-impressive 3.9, LI46631GB and LI46931GB do somewhat better with an average 5 out of 10, and LI49632 gets the best score among the pull-put telescopic extractor hoods with a test-score of 5.6.
Overall the Siemens brand, both before and particularly now as a fully integrated part of the Bosch Group, has a large and impressive range of cooker hoods, which, we are sure, will continue to develop fast, not least on the British market.