An impressive lot of Miele extractor hoods!
Out of 27 cooker hoods only about half a dozen are what we would call 'good', the other 20 models are outright excellent. In other words, the performance is always up to scratch, but the recommended retail price varies tremendously and not always in a – for us – transparent way. We will concentrate on the core performance of the extractor hoods, and leave it up to you how much you may be willing to pay for the extras.
If you are looking for an island hood then you probably cannot get anything better than the DA6690 D Puristic Ed 6000 X. The PUR 98 D is almost as good and silent but is only about half the price. If it's possible, you could stick with the idea of a kitchen island, but try to place the cooking section against a wall. It provides much more efficient extraction (thereby removing grease, moisture and smells better), and wall hung extractor hoods are always much more attractive price-wise – finally, they also come with more choice from a design point of view, for example the vertical hoods which in Germany have the lovely name "head-free". We suggest you take a look at the DA6096 W Black Wing, which gives excellent performance with efficient grease filtering and a strong booster fan when needed.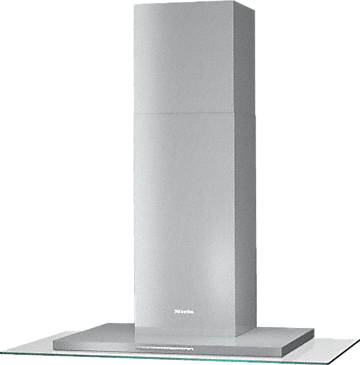 The horizontal wall-hung hoods are an obvious and sure solution, and the DA5796 W Next Step comes out on the top, followed by the DA6690 W Puristic Ed 6000, which, surprisingly, is a little less well performing as its sister island hood with the same name. The only reason we can see for this is that Miele knows that an island hood needs to be more powerful (for an equal end result) – but why not, then, make the wall hung hood equally good (and, by deduction, more efficient)? The PUR68 W or PUR98 W, in 60 or 90 cm respectively, are great extractor fans for reasonable prices. The same goes for the DA396-7 where there is a logical relationship between the slightly higher energy consumption and a somewhat lower purchase price, which could make it the perfect deal for many. We would have liked a higher boost level than 500 m3/h, though.
The built-in models, such as the pull-out telescopic extractor hoods are rightly popular, and Miele offers some of the best ones you can find: Silent, efficient - and expensive - particularly if you want the DA3690, a motorised pull-out canopy, or should we say 'push-out' in this case. If you are OK with a manual pull-out canopy, then the DA3566 (60 cm) or DA3596 (90 cm) will do the job better than any.
Completely built-in, and thus absolutely invisible extractor units, are one of our preferred solutions. Miele offers the DA2360, which sits on the top of the podium, but the DA2450 is such a close runner-up that the significantly lower price makes it the obvious choice.
Simple and efficient, ceiling models are a fascinating and theoretically great solution. However, when looking at the test results, the performance of the models is over-rated, as these ceiling extractor fans are tested in a similar way as - for example - the wall hung fans, that is, mounted only 60 cm over the cooker during the testing. The score will thus be too high compared to the actual efficiency when mounted in your kitchen ceiling; however, you can compare models from different manufacturers and Miele does well in this comparison: the DA2806 comes out on top.
Integrating your extractor fan into a cupboard that opens and improves the performance of your cooker hood is an intuitive solution that is often neglected by the hood manufacturers. Miele is the exception.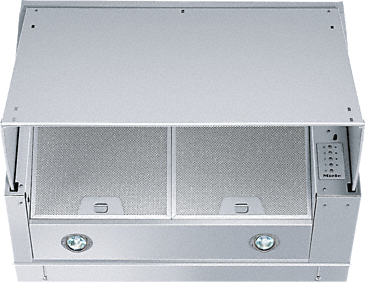 The DA186 is excellent, not very expensive ("tradition oblige" for this type of cooker hood), and if your kitchen is suited to this kind of solution you should not hesitate. It has a fairly average noise level, but it is a very powerful extractor fan, not least when compared to competing models.
Finally, we should not forget the table top extractor units that are – literally – popping up now. The DA6890 from Miele reaches a NeutraTEST Score which is 'average', and frankly we don't have much confidence in these types of solutions, as reflected in the relatively low NeutraTEST Scores for table top models from all manufacturers. We consider this type of hood to be particularly fragile and potentially less effective over time, so be careful if you, nevertheless, decide to buy and 'test' it (and if you do, please get back to us and tell us about your experience).