Bosch has a solid reputation in many areas, and cooker hoods is certainly an area where customers can put their faith in the brand. Some very good Bosch extractor hoods are sold in the UK, and we are convinced that there many more to come (see below).
One minor detail that we dislike is Bosch's segmentation of their home appliance products into four levels (Series 2, 4, 6, and 8): in our view, it makes little sense for cooker hoods when you are looking at their features – apart from the fact that it somehow "justifies" the different price levels (RRPs).
Over the last 12 months, Bosch has adjusted the RRPs for many models: most have gone up, but do check the current market prices once you have shortlisted 2 or 3 models.


Bosch cooker hoods and extractor fans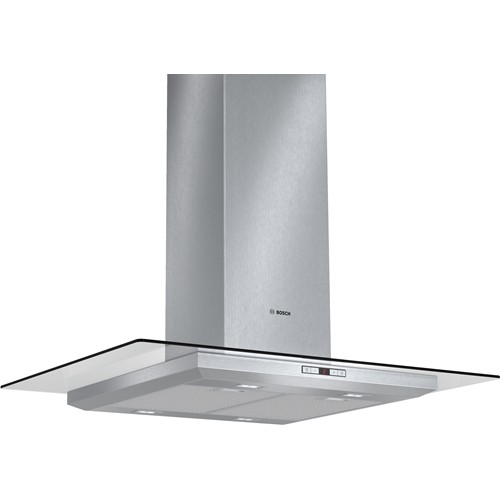 Bosch manufactures excellent island cooker hoods, including the DIB091K50 and DIB091U51, which attain an impressive 69% NeutraTEST Score (6.9 on a scale of 0 to 10). The best value for money is the DIA098E50 (see photo), which comes in a very close second, but which benefits from being significantly less expensive. In all cases, if you have the choice go for a wall-hanging cooker hood as you save a lot of money at an equivalent performance level. Finally, be aware that you should avoid recirculation mode extractor hoods in.
DWB091E50 is the best wall-hanging cooker hood from Bosch, which completely matches the performance levels of the island cooker hoods, but you need to cross the Channel to find it. The DWB098E51B and DWB098J50 are excellent extractor hoods with a NeutraTEST Score of 66%, as are the DWB097A50 and DWW097A50, which are equally good, but less expensive. DWW067A50 also offers excellent value for money. Bosch in Great Britain have more than a dozen wall hanging extractor hoods with a NeutraTEST Score of under 50% (5 out of ten). The RRPs very between £200 and almost £500; however, their performance is "average", just, so do not expect much.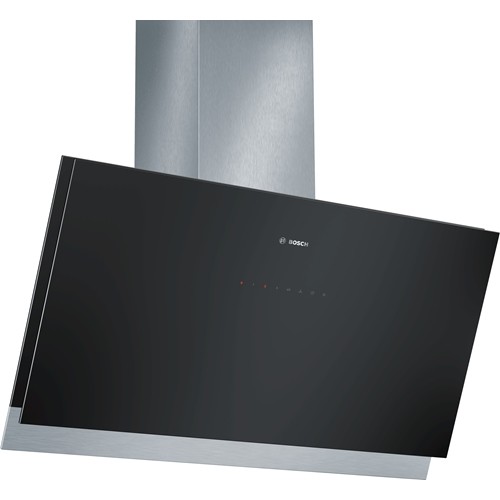 Head-free vertical cooker hoods represent a new product category which, as well as being a break from the past, has caught on big time. Bosch in Great Britain has three good models: the DWK098E51, and two further models, the DWK068G61 and DWK098G61 (see photo), which are identical apart from their widths (60cm and 90cm respectively) that receive a decent NeutraTEST Score of 64%. These hoods have obvious advantages for the user, and Bosch is coming out with more than two dozen new models that are already available in Germany. Of these, the top model is the DWK98PP60, with an impressive NeutraTEST Score of more than 70%. The DWK97JM60 (90cm), DWK67JM60 (60cm) and DWK97JQ60 come a close second, with both designs being nearly completely silent and highly efficient.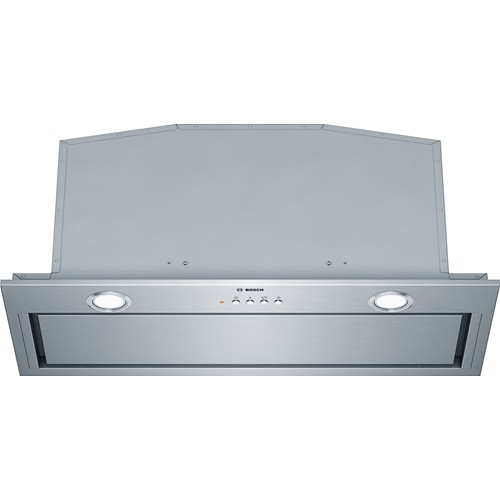 Integrated canopy extractor fans are a great concept, giving you an invisible, powerful cooker hood at a very reasonable price. Bosch has introduced the new DHL785C, which we have analyzed and awarded a good NeutraTEST Score of 5.9 out of 10. A very good choice. In a lower price segment, Bosch has introduced a new integrated cupboard extractor fan, the DHE635BGB, to the market. The price is very low, but so is the performance. If your kitchen is small and in a confined area it may be a good option. Surprisingly in Great Britain Bosch is not – yet – marketing the pull-out hoods, also called the telescopic extractor hoods. The DHI635H is quite cheap but frankly unimpressive, particularly when compared to what is in the pipeline. In Germany, no fewer than nine new models have been released with the DFS068J53 achieving a spectacular NeutraTEST Score of 69%. The DFR067A50 (or DFR097A50) offer excellent performance without pushing the price level too much. We like the fact that the new telescopic hoods from Bosch have very logical pricing at RRP compared to their performance: the DFL063W50 is a decent entry model, while the DFL064A50 is a bit more expensive, but significantly better.
Bosch seems to be on track for some exciting times in cooker hoods, and we're looking forward to seeing what they'll come out with.