Impressive cooker hoods from Novy!
Check out the Test Score for no less than 64 Novy cooker hoods on our online leader board. You can also check out 600 other cooker hoods from all the other major brands. Back to Novy, which has been manufacturing in Belgium since 1965. Their mission is admirable: to produce kitchen appliances that are well-designed, easy to use, durable, and – last but not least – quiet.
Novy claims to be the inventor of perimeter extraction. Whether or not perimeter extraction enhances performance is a question with no clear answer… But this type of cooker hood certainly has the advantage of concealing the often unattractive metal grease filters behind stainless steel or glass panels.


Take a look at the excellent performance of the many Novy cooker hoods and extractor fans. Here we go:


BEST-IN-TEST WALL HOODS
Two Novy horizontal wall hood extractors come in 1st and 2nd. This is when comparing to ALL tested cooker hoods, so quite an achievement! The 7600 Flatline (90 cm) and 7610 Flatline (120 cm) are both very quiet with good air extraction and are ranked A+ for energy consumption. And they have an attractive "delayed switch off" function. These are quite expensive cooker hoods, as you'd imagine, and not that easy to find in the UK (hence some links to a German price comparator).
In this category, you also find three Proline models (the 7221, 7300, and 7211), two Elyps hoods (the 7052 and 7050, black and stainless steel pyramid models), the 7150 Agora (pyramid design in stainless steel) and the 6201 Salsa. All their NeutraTEST Scores are good, ranging from a superb 7.6 (the 7600 Flatline) to a pretty decent 4.9 (Salsa).


EXCELLENT VERTICAL WALL HOODS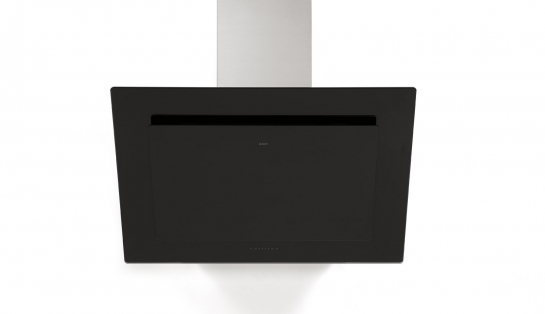 Of the six Novy models in this category, the 120 cm-wide 7840 Vision as well as the 90 cm wide Vision model (black version 7830 and white 7831) come in top! They all have excellent NeutraTEST Scores.
The 7800 and 7809 Headline in stainless steel also perform well, but take into consideration theirprice and they become even more attractive.


IMPRESSIVE ISLAND COOKER HOODS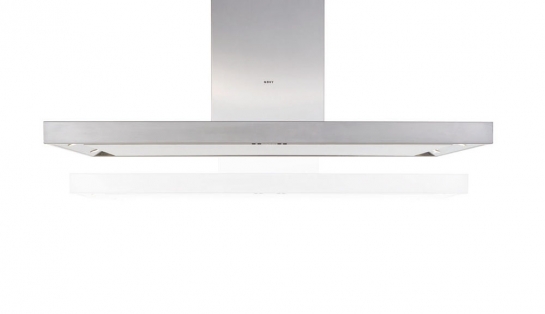 The overall number 1 is the 90 cm Novy 7640 Flatline!!! When choosing a free-hanging island hood you need to look for almost 50% extra performance compared to a wall-hanging hood in order to achieve roughly the same end result. This is because not having a wall to guide the air, their extraction efficiency reduces significantly!
All of the Novy island cooker hoods have scores well above 6, which is impressive. Check out at the 7251 Proline (120 cm), the 7650 Flatline (100 cm), the 7660 Flatline (120 cm), and the 7241 Proline (100 cm). All are in stainless steel and with a more or less slim box design.


TOP 10 INTEGRATED CEILING HOODS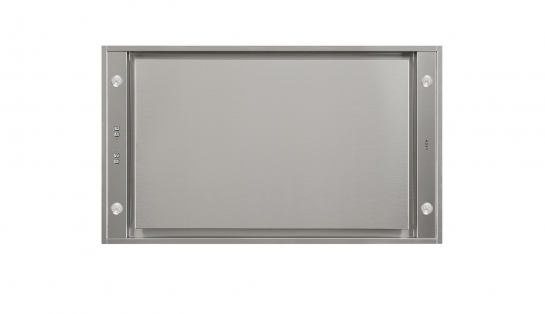 The top 10 is dominated by Novy models!
Take a look at these 6 Pureline design models: the 6830 (stainless steel, 90 cm), the 6841 (white, 120 cm), the 6840 (120 cm, stainless steel), the 6834 (white, 90 cm), the 6844 (120 cm, white), and the 6843 (120 cm stainless steel). The Pureline Compact product line ( the 6820, 6811, 6821, and the 6810) also gets very good scores (more than 6 out of ten). All have perimeter extraction and plain, simple lines.


INTEGRATED WORKTOP HOODS
Here, Novy still has some work to do. The 7901 Up_side obtains a modest NeutraTEST Score of 4.51, which is less than competitors' downdraft models. Perhaps Novy is just convinced, as we are, that worktop extractors are just not the ideal cooker hood solution anyway. We have not yet found any fully satisfied customers using this category of cooker hood.
On the Novy website, you'll find two more downdraft models, the 1821 Panorama and the 1811 One that won the 2016 Red Dot Award but tests for these two models have yet to be completed before a NeutraTEST Score can be given.


INTEGRATED EXTRACTOR WITH VISOR
These Novy models come in among best of all on cooker hood tests. This conventional and normally inexpensive cooker hood category features eight stainless steel hoods of fairly similar design: the 750 Pro Classic (100 cm), the 749 Pro Classic (90 cm), the 706 Classic (60 cm white), the 736 Classic (60 cm), the 949 Pro Classic (90 cm), the 739 Classic (90 cm), the 906 Classic (60 cm white), and the 936 Classic (60 cm). Their NeutraTEST Scores vary from 4.47 to 3.33, which don't sound very high compared to the previous cooker hoods. Our advice is to go for a model with a NeutraTEST Score of at least 4; perfectly adequate for a small kitchen and a limited budget.
FULLY-INTEGRATED CUPBOARD EXTRACTORS
The 815 Integrated by Novy is a completely invisible type of cooker hood, and it is as good (or bad!) as the competitors' models. But for its hefty price tag you only get a modest performance (air extraction from 191 to 261 m3/h and no boost) so we can't recommend this particular category. In fact, all the manufacturers need to improve here.


INTEGRATED CANOPY HOODS WITH GREAT SCORES
Like the ceiling hoods, this type of extractor is built-in from below, but mounted directly over the hob in a cupboard. Novy is strong in this segment with 16 models (7 of which are in top 10), with the best performing getting an impressive 7.0 NeutraTEST Score: it's the 780 Fusion+ (60 cm, white). The Fusion+ line with a glass section that opens and helps direct the air also exists in a 90 and 120 cm version: models 786 and 787.
Other integrated canopy hoods with great scores are the 821 and the 820 Mini Pureline, the 686 and the 680 Fusion, as well as the 811 and the 810 Mini Pureline.
The 878, 877, 829, 828, 874 and 876 models achieve average scores of around 5. And the cheapest model, the 814 Quarto in aluminium, gets a score of just below 4 but at a third of the price of the most expensive Novy model in this category. For this, you get a basic hood with no boost and a maximum air extraction of only 304 m3/h.
Frankly, to sum up, if you are looking for a white 60 cm canopy hood, Novy certainly gives you the choice, but we have a strong preference for the top-of-the-range model, the 780 Fusion+. This constitutes fabulous value-for-money compared with the other cooker hood categories. But do take a closer look at the better Novy models, too. Find one at a good price and you'll get yourself a bargain. Do compare prices!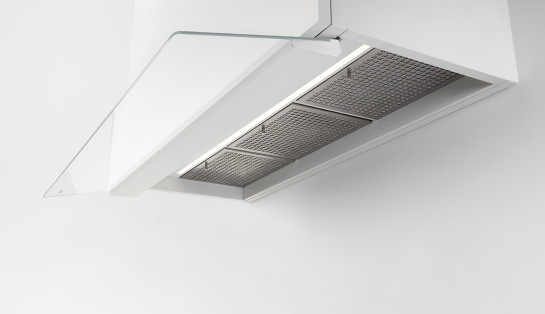 Should you be interested in a white 90 cm model, then the 786 Fusion+ is certainly worth a look
If you happen to have a 70 cm cupboard, then the white 877 is your only option. If you wanta 120 cm model in white, then check out the 787 Fusion+, or consider the Box In IXA from Italian manufacturer Elica, which is much less expensive (it also exists in a 60 and 90 cm version).
In stainless steel the best 60 cm option is the 810 Mini Pureline. The same goes for the 90 cm choice: the best is the 820 Mini Pureline.


INTEGRATED PULL-OUT TELESCOPIC HOODS
Novy offers eight models in this category. The best one, the 650, ranks in the top ten with a score of 5.8. Two models have a score below 5, the 691 and the 661 Moveline, which isn't bad at all when compared to cooker hood extractors with visor or to vertical cupboard extractors. Integrated canopy cooker hoods – particularly those from Novy – are hard to beat, though.
Nevertheless, for a 60 cm telescopic model, we would recommend the 650, and for a 90 cm model, the 655.
The 692, 693, 663 and 662 Moveline models have slightly lower scores and cost more, so you'd have to negotiate hard on price to make them attractive.
NeutraTEST hopes to have made your life easier. The choice is yours!
By the way, we receive a small commission when you compare prices for the models on our site. Thank you for using us and for clicking on our links. This service is totally free to you.